Greenpeace has released this years tinned tuna league tables, reporting on how well or otherwise UK supermarkets and brands are doing in their pledge for sustainability fished tuna. The idea of this is to help consumer to make the informed choices on their purchasing of tuna. This year the league table has ranked brands on a wider variety of issues than just fishing method;
The losers
Bottom of the table was one of the UK biggest tinned fish brands 'John West', with 'Princes' close behind.
Despite campaigns and promises both companies have been disappointingly lax in order to curb destructive fishing methods.
John West tins contain an average of just 2%
sustainable tuna, despite promising to contain 100% by 2016. The remaining is caught using FDA, (Fishing Aggregation Devices), ensnaring a huge variety of non target species such as sharks, whales and turtles.  As these species are not commercially viable, they are thrown back into the ocean in their thousands each day. Princes has also missed it original 2014 deadline with only around 25% sustainability caught. 
The footage comes from a tuna fishing operation using Fishing Aggregation Devices (FDA)s. These devices attract a diverse range of marine life before they become caught in the netting before being tossed over board, dead or dying.
John Wests owners, Thai Union, are also under scrutiny for human rights abuses, attracting  US Secretary John Kerry to speak out against them after New York Times exposure. Discount brand supermarket Lidl came onto the list this year, though fared poorly with it's brand 'NiXe' containing only 20% sustainable fish in it's tins, with no commitment for sustainable fishing.
The winners
Waitrose, Marks & Spencer and Sainsbury's came top this year for their work in sustainable fishing, providing market leading products. Each contained 100% sustainability sourced fish, good traceability, publication of work and working conditions. Nearly 75% of the tin of tuna Sainsbury's sells – regardless of brand – is sustainable. Both Waitrose and M&S  continues to be a clear market leader on sustainability with their own-brand tinned tuna spanning their whole range of tins, sandwiches and pasta. All thier own-brand tinned tuna is 100% pole and line caught. These supermarket were praised for their continuing commitment and finding ways to improve. 
Waitrose Aquaculture and Fisheries Manager, Jeremy Ryland Langley, said:

"We are delighted that our efforts in ensuring we offer sustainable and ethical tuna to customers has been recognised. All of our canned tuna is pole and line caught and clearly marked as Marine Stewardship Council certified, including all the tuna in ready-prepared products such as sandwiches and pâtés…. Sustainability is at the very heart of what we do and we are proud to be market-leading."
Independent brands like Reelfish and Fish4ever are also recommended on similar criteria, if you cant find them ask you local supermarket to stock them.
Tesco is also making the headway this year, coming near bottom last year it has made great progress, providing more sustainable tins. In the past Tescos has come near bottom of the table with thier association with Oriental & Pacific, which was accused in previous years of containing 'Dirty tuna', this means that much, if not all of it, is caught in big nets using Fish Aggregation Devices. Tesco has however met its commitment to go 100% pole and line in its own brand tinned tuna by 2012. But it must not slip back down due to other brands that they stock. Aldi like it's competitor Lidl is also coming into the table this year, however unlike the other discount supermarket it met its commitment to sustainable fished tuna a year early
Tesco said:

"We want to ensure that our customers can buy seafood that is both sustainable and affordable. We continue to work hard with our supplier partners and our experts to achieve this"
Middle of the field are Asda, Morrisons and the Co-operative which do all source their own brand tuna using sustainable methods, though lack on other criteria. Morrisions has improved dramatically since 2011 when only 50% of their own-brand tinned tuna was caught sustainability, they achieved 100% last year and have also met their promise to use 100% sustainable tuna in other products.
 Awareness and campaigns are what has got the supermarkets to this piont. But all this is in danger of unravelling because of the poor by supermarkets and brands such as John West and Princes, undermining all the good work made by most supermarkets.  More can still be done ;
What you can do?
Sign the greenpeace petition demanding better of UK tuna brands atwww.greenpeace.org/notjusttuna  

Choose brands at the top of the league table 

Share the league table with friends and family 

Join the Fish fight

Demand your supermarket stocks sustainable fish
The League Table 
(The following if from the Green peace website https://secure.greenpeace.org.uk/page/s/not-just-tuna-fb)
1)
Waitrose
A go to #JustTuna brand – other companies should follow their lead
Tuna is 100% sustainably caught and Waitrose is dedicated to ensuring it is fairly caught
They say "Sustainability is at the very heart of what we do"
2)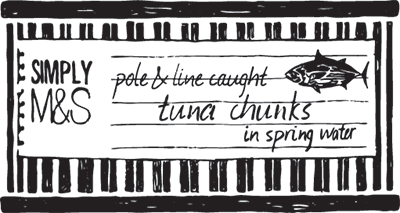 Marks & Spencer
Top #JustTuna brand – other companies should follow their lead.
100% sustainably caught using pole-and-line method and strong sea to shelf traceability
On sustainable tuna they say – "the future of the world's fisheries depends on it"
3)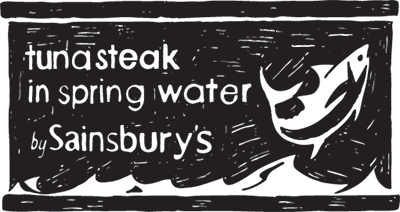 Sainsbury's
Top #JustTuna brand – other brands need to follow their lead
100% pole-and-line caught tuna with strong sustainability policies
Tuna is sourced fairly meaning local workers and communities are protected
They say – "We hope further progress can be made within the sector to make our oceans safer for marine species"
4)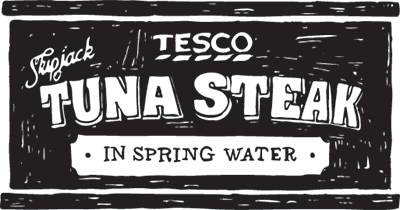 Tesco
Huge progress made all round since last league table
100% pole- and- line caught tuna
Good traceability of tuna from sea to shelf and strong policies to avoid illegally caught fish
They say "we want to ensure that our customers can buy seafood that is both sustainable and affordable"
5)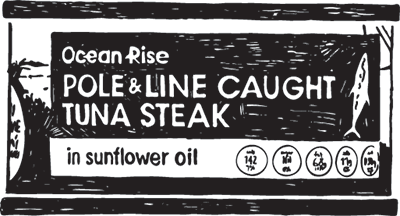 Aldi
Strong new entrant to the league table
Their own brand is 100% sustainably caught which minimises harm to the oceans
They say "sourcing fish in a responsible way is really important to us"
6)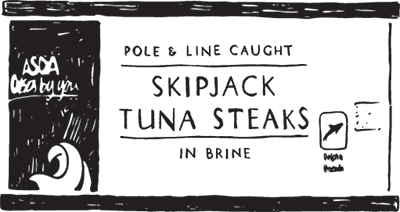 Asda
Improvements being made but could do better
Recently met their promise to source 100% tuna using sustainable fishing methods
Could do more to avoid overfished stocks
7)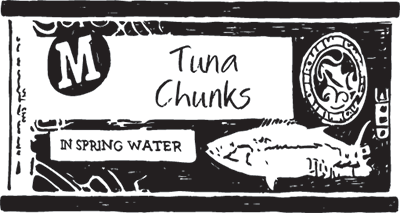 Morrisons
100% sustainably caught…but could do more to improve
Policies to avoid illegally caught tuna and overfished stocks should be formalised
Could do more to promote the most sustainable choices in stores
8)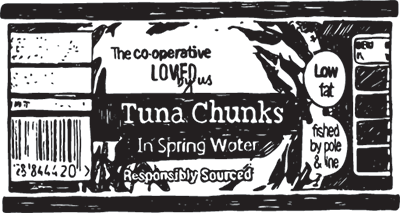 The Cooperative
Could be worse, should be better
Their tuna is 100% sustainably caught – which is great!
They must strengthen their policies to avoid illegally caught fish and the treatment of workers
9)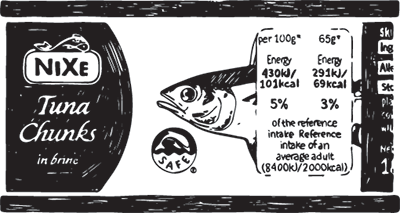 Lidl
Lidl's tuna is not good for the oceans -– nearly 80% is caught using destructive fishing methods
They should commit to sourcing tuna using only sustainable fishing methods
On the positive, Lidl has good sea to shelf traceability
10)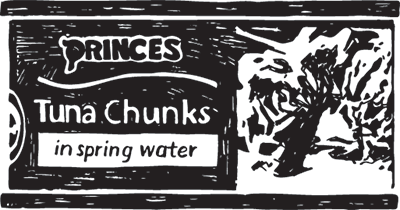 Princes
Score well for protecting local workers but very poor sustainability
They promised 100% sustainable tuna by the end of 2014. They've managed a measley 25%
Continue to use unsustainable methods to catch tuna, which also kill all kinds of other creatures in their nets
11)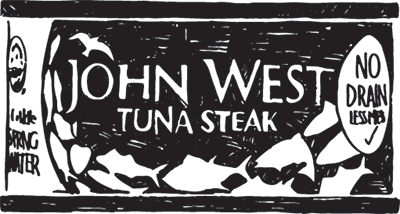 John West
They promised 100% sustainable tuna by 2016 – so far they've managed 2%. They show little intention to change.
John West's owners, Thai Union, have been linked to human rights abuses in their seafood supply chains
They must stop using unsustainable fishing methods that catch sharks, endangered turtles and other creatures